BENITO RANGEL DE MARIA
My work explores two central themes, identity and time. These themes interest me because they document a natural process of our evolution. The resulting work examines the physical qualities of who we are, who we want to be, and how we want to be perceived. By creating works that juxtapose our similarities and differences, I encourage the viewer to see beyond the limitations of the physical.
---
Recent News
Marin Museum of Contemporary Art (MarinMOCA) Fall National Juried Exhibition, August 30 – October 5, 2014.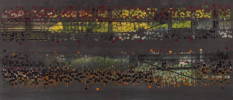 I'm thrilled to announce that my work, TRIBE 178, 2013, was selected as a mixed media Showcase winner on ArtSlant.com.
Sign Up For Email Newsletter