BENITO RANGEL DE MARIA
Through the use of varied constructed – deconstructed media, my work explores our inherent human desire to mark and brand ourselves and each other. My work also investigates our interest in marking and documenting our environment.
---
Recent News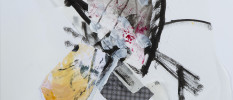 This week, my work will be featured at Art Aspen 2016 opening Thursday, August 4th, at of Zener Schon Contemporary Art, Booth B15.
It was thrilling to include one of my newest pieces "Portrait in Landscape" along with artists Inez Storer, Enrique Chagoya, Matt Gonzalez, Beth Davila Waldman, Henry Jackson, Carlos Cartagena & Victor Cartagena at a private event last Thursday evening hosted by MMG Foundation and WaldmanArts.
Sign Up For Email Newsletter